Pre-Order
Cooper Vision® Biomedics® Toric for Astigmatism
CooperVision® Biomedics® toric is the benchmark standard hydrogel lens for patients who need correction for astigmatism and prefer a monthly replacement schedule. And due to their chiselled edge and extremely stable performance, Biomedics® toric contacts provide excellent, sharp vision and lasting comfort.
not rated
RM

150.00
Select options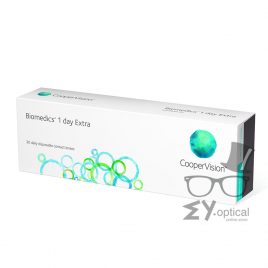 Ready Stock
Cooper Vision® Biomedics® 1-Day Extra
Designed to maximise the feeling of natural all-day comfort. An excellent upgrade for existing 1 day wearers, a great starting point for those new to lenses or for those monthly lens wearers wanting to upgrade to the extra convenience 1 day lenses offer.
not rated
RM

80.00
Select options